Aerial Yoga Play Series
See our event's page for upcoming sessions
Each Aerial Yoga Series is designed for beginners, building a foundation to take your step by step to the next level of fun!
Let your yoga take flight and swing your way into feeling absolutely amazing!
Aerial Yoga Play allows a combination of benefits similar to aerial yoga, Pilates, suspended resistance training, acrobatics, and dance all rolled into one for an amazing suspended fitness experience. It allows for all the benefits of traditional yoga: flexibility, strength and balance – with the unique conditioning of aerial dance and acrobatics for an exhilarating new way of approaching yoga.
Our aerial yoga swings are specially made to be supportive, stretchy, and comfortable. They support your body in your yoga practice and increase your ability to enter into challenging poses, like back bends and inversions, with more safety and ease.
Come discover how the Aerial Yoga Play swings are one of the most effective tools you can use to suspend the body, open up the spine, and create more space in the neck and lower back which provides a unique advantage in rehabilitating these commonly strained areas.
Aerial Yoga Play is one of the most beneficial ways of using gravity to accelerate healing, while building strength, balance, and openness.
WEAR T-SHIRT OR LONG SLEEVES, NO MAT NEEDED, class is held in our non heated room.
Looking for a fun party or event?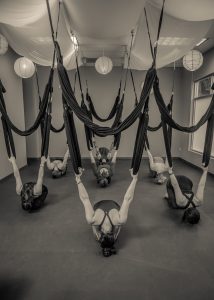 We can accommodate up to 8 people for an aerial experience with a private instructor! $25/person or $175 minimum for the hour.
Call studio or email us for more info and dates!